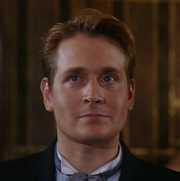 Alan Bernard Michael McKenna was a character in Coronation Street from Ep 4089 - 8 Nov 1996 to Ep 4297 - 10 Nov 1997. He was a police officer who dated Fiona Middleton. Alan was known to be underhand and was not afraid to break rules as a policeman. In late 1997, Alan finished with Fiona and left Weatherfield. Alan was played by Glenn Hugill.
Alan Bernard Michael McKenna was born in about 1970 in Darlington, the only child of Bernard McKenna and Mary McKenna. His dad used to hit him when Alan was a child. Alan forged a career in the police force after leaving school.
In November 1996, Alan met Fiona at a nightclub. Bearing a resemblance to pop singer Jason Donovan, Alan was a police officer. Alan become interested in Fiona. In May 1997 Fiona slept with Alan then had a one night stand with Jim McDonald. Fiona knew Jim had a vasectomy, so was unlikely to be her baby's father. Jim tried to talk Fiona out of marrying Alan. Fiona used to think Alan held a grudge against Steve McDonald. Alan knew that Jim was hassling Fiona a bit. Jim and Alan developed a rivalry.
Alan tried to stitch Jim's son Steve McDonald up and had him arrested. Alan even hit Steve when he taunted him about not being the father of Fiona's baby. Jim was livid but Steve told him to not have a go at McKenna. Jim did plan to get even with McKenna. Alan and Fiona did plan to leave Weatherfield as well in September 1997. Alan planned on marrying Fiona in November. In November 1997, Jim interrupted Alan's wedding to Fiona to say he had a one night stand with her. Alan and Fiona spoke in the church vestry and he called off the wedding, calling her the McDonald family whore. Alan announced to the guests that the wedding was off, and to ask his ex bride why it is off. During a row after the non wedding, Alan got aggressive with Fiona and went to hit her but then stormed out. Alan then left pregnant Fiona, and left the area, and his unborn baby. The feud between Alan McKenna and the McDonald's was over.
Life after leaving Weatherfield
[
edit
|
edit source
]
Alan never contacted Fiona again after November 1997 and his whereabouts after then was never disclosed.
It was confirmed that Alan was the father of Morgan Middleton born February 1998. Alan has very likely never met his son.
Alan's son Morgan visited Weatherfield upon the death of his stepfather John Brooker in August 2019.
Born: About 1970
Full Name: Alan Bernard Michael McKenna
Parents: Bernard McKenna and Mary McKenna
Siblings: None
Spouse:
Children: Morgan Middleton (1998)
Community content is available under
CC-BY-SA
unless otherwise noted.