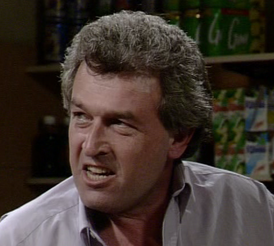 Alex Christie was a character in Coronation Street in 1994. He was a bookmaker who romanced Tanya Pooley, and this lead to a love triangle with Alex, Tanya and Des Barnes. Alex first appeared in Ep 3664 - 25 Feb 1994, and last appeared in Ep 3742 - 24 Aug 1994. Alex was played by Gavin Richards.
Biography
[
]
Backstory
[
]
1994
[
]
Bookmaker Alex became Des Barnes' boss by February 1994. Barmaid Tanya Pooley dated Alex, and was shocked when, in February 1994, he turned up at the Rovers, where Des also drunk at. Alex left his wife and children for
Tanya. But Des Barnes was also in a relationship with maneater Tanya. One night in June 1994, Des saw Tanya and Alex in bed in the flat above Jim's Cafe. Des was dating Raquel Wolstenhulme. Raquel had heard Des leave that night so she followed him out of curiosity. She heard Des say to Alex that Tanya was his woman. Raquel was devastated. Alex and Des then had a massive fight in the cafe, wrecking the place at the same time. Alex fired Des.
Des planned to sue Alex for unfair dismissal in July 1994. Alex planned to fight Des. Des even called Tanya as a witness in the tribunal, and Alex suggested she lies. However, in August 1994, Alex offered an out of court settlement. After this, Des and Alex parted ways for good.
Memorable info
[
]
Born:
Full Name:
Parents:
Siblings:
Spouse: Val Christie (??-??)
Children: At least 2