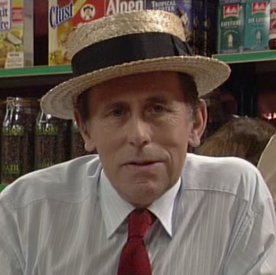 Brendan Franklin Scott was a character in Coronation Street on a recurring basis from Ep 3182 - 1 Feb 1991 to Ep 3583 - 20 Aug 1993. He was the Area Manager at Bettabuys, and later owner of the Corner Shop, and was quite pompous. Brendan was a workaholic and worked himself to an early grave as he collapsed and died suddenly in August 1993 from a heart attack. Brendan was played by Milton Johns.
Biography
[
]
Backstory
[
]
Born in about 1938-1940. Brendan married a woman called Debi. In 1982, he clashed with Reg Holdsworth as they both worked at Bettabuys. Reg tried to get Brendan sacked for dishonesty but was unsuccessful. Brendan became Reg's boss and he held a grudge against Reg.
1991-1993
[
]
Brendan was a retail manager and Area Manager of Bettabuy. Brendan clashed with Curly Watts and Reg, and as Brendan was now Reg's boss, he still had an axe to grind with him due to Reg trying to get him sacked in the early 1980s. Brendan even was a judge at a beauty contest and attempted to sleep with contestant Raquel Wolstenhulme but was caught by Curly who threatened to tell Brendan's superiors.
When Alf Roberts retired, Brendan bought the corner shop. Now in his early to mid fifties, Brendan worked himself into the ground by doing many deliveries on his bike and stressing himself out. In August 1993, Brendan get rather flustered and began to have hot flushes. He then collapsed in the corner shop. Martin Platt, a local male nurse, tried to revive Brendan and performed CPR until the paramedics arrived. They pronounced Brendan dead.
Aftermath of his death
[
]
Brendan's widow Debi arrived, but seemed untouched by his death. The shop struggled in the wake of Brendan's death and the shelves almost went totally empty. Assistant Deirdre Barlow said the shop should stock up again. Debi sold the shop at auction and previous owner Alf Roberts bought back the shop and drummed up business in the shop again. 6 months after Brendan died, in early 1994, due to Mayoral duties, Alf Roberts then sold to Reg Holdsworth, whom the now deceased Brendan had once been the boss of at Bettabuys.
In July 1994, almost a year after Brendan died, he was referred to when Alf mentioned how he had to buy the shop back a year earlier due to circumstances.
Memorable info
[
]
Born: Unknown, circa 1940.
Died: 20th August 1993
Full Name: Brendan Franklin Scott
Parents:
Siblings:
Spouse: Debi Scott (??-1993)
Children: None