Jurassic World: Dominion Dominates Fandom Wikis - The Loop
Play Sound
Dennis Tanner was a character in Coronation Street who first appeared in the first episode, Episode 1 (9 Dec 1960). He left in Ep 782 - 12 Jun 1968 but returned in Ep 7599 - 12 May 2011 after a 43 year absence, departing again three-years later in Ep 8437 - 30 Jul 2014. He was the original street bad boy and the son of Elsie Tanner and brother of Linda Cheveski.
He was killed off-screen in February 2020 in order to tie with the show's 10'000th episode, which was Ep 10'000/10'001 (7 Feb 2020). He was played by actor Philip Lowrie.
Biography
[
]
Backstory
[
]
Dennis Tanner was born on the 1st April 1942 at Number 11 Coronation Street to Arnold Tanner and Elsie Tanner nee Grimshaw. Dennis was 2 years younger than his sister Linda Tanner. Dennis one time scrawled "Dennis Tanner 1951" on the window sill at the front of the house. As he got older, Dennis became a bit of a tearaway. In 1960, he was imprisoned in Borstal for theft.
1960–1968
[
]
In December 1960 Dennis, who was out of prison for several weeks now, clashed with his mother as she accused him of returning to his old ways after money went missing from her purse. Dennis denied the accusation, and also taunted Elsie how she would prefer him to be like Ken Barlow, who was a university student. Later that evening Dennis bumped into Ken in the pub and managed to score a pack of cigarettes off him. It later turned out Dennis wasn't responsible for the theft, but his sister Linda who needed extra money for shopping at the Corner Shop, leaving Elsie to feel bad for accusing Dennis.
Dennis quickly sorted himself out following the incident and got himself a job at a club. But Elsie was left worried when Dennis returned home with a big wad for cash and feared he stole it, not helped that a theft had taken place in the area. But Dennis was backed up by neighbour Harry Hewitt, who spotted Dennis placing a bet. Dennis spotted his father Arnold Tanner at the nightclub he worked, which was the first time he set eyes on him in 16 years. The pair meeting prompted Arnold to return to Coronation Street in January 1961 to ask Elsie for a divorce so he can remarry. Although Elsie tried to deny Arnold this, she eventually gave in.
Dennis' old partner in crime Jed Stone arrived in April 1961 asking Dennis to help him out on a "job", but Dennis refused and scared Jed away by introducing him to Elsie's policeman boyfriend. Jed later returned a few months later, and like Dennis was a lot less crooked (although would occasional sell stolen items for a quick buck). The reconciled their friendship and Dennis later began dating Christine Hardman, and Jed dated Christine's friend Jean Stark. All four of them traveled to Blackpool with the rest of the residents to see the illuminations. During the trip Dennis spent most of the time eating, which left him with a sore stomach on the way back home.
In March 1962, he dumped 2 sea lions in the bath of Jack Walker and Annie Walker, who ran The Rovers Return, Coronation Street. That same year Dennis was made Assistant Manager at the Orinoco Club and left for London to open an office there.
Dennis returned to Coronation Street in 1963 and moved back in with Elsie, where he accidentally let in baliffs that she had tried to hard to keep out. A young woman named Mavis Fox turned up on Coronation Street looking for Dennis, and it was revealed that he had been living with her privileged family in London and pretending that he was from the same class. When she turned up on Coronation Street he claimed the house belonged to his gran and that Elsie was the maid, but the girl saw through his lies and left Dennis, returning back home.
In December 1964, Dennis met up again with stripper and singer Rita Littlewood, whom he had known before, and were dancing together when news came through of President Kennedy's killing in November 1963. They had a brief romance. During the 1960s Dennis witnessed several altercations between his mother Elsie and her equally fiery neighbour Ena Sharples.
In 1968, Dennis met Jenny Sutton, who was a Londoner. They married in June 1968 and Dennis and Jenny decided to leave Weatherfield for a new life in Bristol. Dennis was not to return to Weatherfield for the next 43 years.
In-between 1968 and 2011
[
]
In May 1972, Rita Littlewood got chatting at a nightclub in Weatherfield to Elsie Tanner, and she mentioned her son Dennis, and Rita said she knew him a few years before. By 1972, Dennis was long gone from the area, living in Bristol. He split up with Jenny around this time.
In 1973, Dennis was imprisoned in Pentonville, London for fraud. Elsie visited him. Jenny now split up from him, and when Elsie believed she may have had something to do with Dennis' downfall, Jenny's father pointed out Elsie was as much to blame, and accused her of not being a good mother to Dennis.
Presumably Dennis was released in 1976 as he was given a three year sentence for his crime. Even though his mother Elsie returned to Coronation Street this same year he decided not to return, and never visited even when she remained on Coronation Street until leaving for a new life in Portgual with Bill Gregory in 1984. Dennis' activities during this time is uncertain. It is assumed he made contact with Elsie again following her 1984 departure as he was aware of her marriage to Bill Gregory by the end of that year, so it is possible he attended it and reconciled with her. But tragically Dennis lost his mother after she and Bill died in a car accident whilst driving in Portugal in the mid-2000s, at which point Dennis would have been in his early 60s.
Dennis didn't continue working as a salesman (likely due to briefly becoming a conman back in the early 1970s) so tried to return to showbiz, but he discovered that his old talent acts were not in demand in the 21st Century compared to what they were in the 1960s. As a result Dennis found work difficult to come by and ended up becoming lazy like he did following his original 1960 prison release. Due to his advancing years he didn't return to crime, and instead began to look for others to lean on, especially as his mother was no longer around to hold him up. In 2009 he got engaged to a woman named Norma Fountain, although she put more money into their home than he did. Dennis got cold feet before the wedding and ended up fleeing without telling her, leaving Norma confused and upset.
With no home, no job and no Elsie around anymore, Dennis finally ran out of his luck and by the end of 2010 found himself homeless. He became disheveled and grew a beard and began to fleet local soup kitchens to get by. Despite his terrible stroke of luck, Dennis still tried to see the bright side of life.
2011–2014
[
]
In May 2011 Dennis was back in his hometown of Weatherfield an sleeping rough. He began to frequently visit a soup kitchen which was overseen by James Cunningham, although Dennis was unaware at the time this was the grandson of his former neighbour Ken Barlow. Whilst visiting the soup kitchen he got chatting to volunteers Sophie Webster and Sian Powers. They took pity on Dennis and took him to Roy's Rolls on Victoria Street for something to eat. Dennis felt unnerved as the location was right next to Coronation Street, his old home. But he enjoyed the food and got chatting to Roy Cropper and Roy's miserable mother Sylvia Goodwin, who didn't approve of Dennis - a tramp - being on the property. Later that night Dennis returned to Coronation Street and hung outside his own home at No.11, examining the "Dennis Tanner 1951" etching on the window ledge. There he was approached by a now elderly Rita - his old flame - who wondered what he was up to. Rita recognised Dennis but he fled before she could get a word out.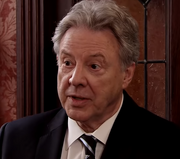 Rita managed to track Dennis down to the soup kitchen with the help of Sophie. Embarrassed that she caught him in the situation Dennis left, but later returned and got properly speaking to Rita, marking it the first time in 47 years. Dennis revealed to her about his mother's death several years prior. Rita brought Dennis back to Coronation Street and allowed him to move into her home above the Kabin newsagents, where he got himself cleaned up. Afterwards he met with his old friends Ken Barlow and Emily Bishop for the first time in four decades. Rita's friend and co-worker at the Kabin Norris Cole clashed with Dennis and didn't approve of him, feeling he was only there to leech off Rita.
Following his return Dennis got chatting with Eileen Grimshaw, who now lived at No.11. Dennis said that Elsie's maiden name was Grimshaw. Eileen had 2 children but at that time had never married. She told Dennis about her father Colin Grimshaw. They did some research into the family tree and found out that Elsie's father Arthur Grimshaw and Colin's father were brothers, thus making Dennis and Eileen related. Despite this nothing else came from this revelation and they barely interacted, with Dennis only occasionally speaking to Eileen's half-sister Julie Carp.
In June 2012, Dennis married Rita, 48 years after they first met. Dennis even developed a friendly feud with Steve McDonald. Dennis and Steve even squared up in an amusing way with other lollipop men. However Dennis soon became bored of his marriage to Rita and became interested in Gloria Price. They had an affair and in 2013, they both ran off.
Rita was shot of Dennis but in 2014 when he came back Rita forgave him but she saw him hugging another woman. In July 2014 Rita finally ditched Dennis. Feeling he had nothing left round the area, Dennis decided to leave Weatherfield in late July. He took one last look at No 11 and the 1951 graffiti "Dennis Tanner 1951". He was last seen walking down Coronation Street with a suitcase.
After 2014 and death
[
]
In November 2015 Dennis filed for a divorce against Rita, with the divorce papers arriving to her. His living conditions and lifestyle at this point in time are unknown. Rita agreed with the divorce proceedings, and this was the last time they had anything to do with each other again. At some point afterwards Dennis developed dementia and presumably spent the remainder of his days in a care home. Prior to his death and presumably before the dementia got worse, he made it his last wishes to be cremated. Due to his sister Linda now residing in Toronto, Canada, he wished for Rita to receive his ashes and for a request to have them scattered in Blackpool.
Dennis passed away in January 2020 at the age of 77. He was cremated and his ashes were sent to Rita in the mail. Despite his passing he was frustrated at Dennis for thrusting such a request upon her for all he had done to her, and to scatter them in Blackpool of all places, as she had bad memories of there due to her late abusive partner Alan Bradley. Rita agreed to fulfill the request which then turned into a day out for the residents as they planned to travel with her to Blackpool in a coach. Dennis' urn was left on the road and got ran over, with them scattering over the place.
Despite her and Dennis leaving on a bad note, Rita did remember him fondly when looking at a photograph of him (along with other past residents) pinned up on the wall of the Rovers Return Inn, and smiled when she thought back about their time together, as well as all of her other friends and past neighbours long since moved on or passed away.
Behind the Scenes
[
]
Dennis is one of the original 21 characters introduced in the series and created by Tony Warren. Actor Philip Lowrie originally auditioned for the role of Ken Barlow which was lost to William Roache, but he got the part of Dennis Tanner. Originally Dennis was going to be a lot more villainous, but due to Lowrie's comedic talents the character was toned down significantly to become a more light hearted and funny character.
Originally Dennis was supposed to be about 22 in 1960 (born 1938) but other sources later said he was born in April 1942 so only 18 in 1960.
Lowrie left the show in 1962 due to the Equity Actor's Strike. After attempting to start a pop career, he returned to the role in 1963.
Feeling frustrated with lack of development with Dennis, Lowrie quit the role in 1968, with the character departing in June that year. In 1971, Lowrie initially stated that he wasn't interested in returning to the role.
In January 2011 it was announced Dennis would be returned to Coronation Street after 43-years. This idea came about when Barbara Knox (who plays Rita Sullivan) suggested that Dennis should return, which then-producer Phil Collinson agreed to. Dennis returned to the show homeless in May 2011, which Lowrie had praised as he felt it gave his character development.
From June 1984 to May 2011, Ken Barlow remained the only character left in the show who had appeared in the very first episode, Episode 1 (9 Dec 1960). Albert Tatlock was last seen in January 1984 and died offscreen in May and Linda Cheveski returned briefly in 1984 but departed that June. From May 2011 to July 2014, Dennis Tanner returned, meaning Ken was again, not the only character left who appeared in the first ever episode, but he regained this title when Dennis left in July 2014. This will probably remain the case now, as many other original characters are either dead or unlikely to return due to the advanced age of the surviving original actors.
In December 2013, Dennis was axed by producer Stuart Blackburn. He departed seven-months later in July 2014.
Philip Lowrie earned a record in 2011 for having the longest break as a television character, being 43-years. This beats Kenneth Cope who played Jed Stone, in which he was absent from the role for 42-years (1966 to 2008).
Dennis was killed off-screen in February 2020 in order to tie with the programme's 10,000th episode. This makes him the most recent original character to be officially killed off in the show. This also ends any chance of Lowrie returning to the show.
Appendices
[
]
List of addresses
[
]
Employment history
[
]
| Role | Institution | Duration |
| --- | --- | --- |
Family
[
]
Appearances: 9 December 1960–7 March 1962, 15 April 1963–12 June 1968, 12 May 2011–30 July 2014
Born: 1st April 1942
Died: February 2020 (Aged 77)
Father Arnold Tanner
Mother Elsie Tanner.
Siblings Linda Cheveski.
Grandfathers Wally Tanner, Arthur Grimshaw
Grandmothers Amy Tanner, Alice Grimshaw
Spouse: Jenny Sutton (1968-1973), Rita Tanner (2012-2015)
Uncles/Aunts: Albert Tanner, Fay Butler, James Grimshaw,
Gallery
[
]