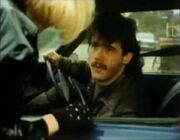 Kevin Webster drives through a puddle in the road and soaks a girl. He stops to help her and she is quite angry. She is Sally Seddon. Kevin takes her back to Number 13 Coronation Street and Hilda Ogden is not pleased for some reason. She finds Sally abrasive. This causes friction between Kevin and Hilda. Deirdre Barlow worries that the social workers will find out about Ken Barlow hitting Mike Baldwin which could affect Ken adopting his stepdaughter Tracy Barlow.
Character and cast observations
Edit
This episode saw the first appearance of Sally Seddon, later Webster and Metcalfe, who remains in the show to this day.