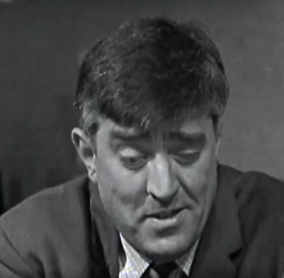 Harry Hewitt was a character in Coronation Street from Episode 2 (14 Dec 1960) to Ep 702 - 6 Sep 1967. He was the father of Lucille Hewitt and Christopher Hewitt. He was played by Ivan Beavis.
Biography
[
]
Backstory
[
]
Harry Hewitt was born on the 24th February 1921 in Weatherfield to Thomas Hewitt and Mary Hewitt. He was the second of 3 children. Harry married Elizabeth and they had a daughter Lucille Hewitt in 1949.
1960-1967
[
]
Harry was a bus conductor and a great friend of Len Fairclough. In 1961 he met and married Irish Concepta Riley. They had a son Christopher Hewitt in August 1962. In August 1964, the Hewitt's moved to Ireland.
Legacy
[
]
In September 1976, 9 years after Harry's death, Stan Ogden mentioned Harry Hewitt to Fred Gee and how people say he kept greyhounds. In 1964, Stan and his family moved into Coronation Street a few weeks before the Hewitts left for Ireland, so he may have met him.
Memorable info
[
]
Appearances: 14 December 1960–19 August 1964, 28–30 June 1965, 4–6 September 1967
Born: 24th February 1921, Weatherfield, Salford, Lancashire.
Died: 6th September 1967
Full Name: Harry Hewitt
Parents: Thomas Hewitt and Mary Hewitt (Nee Makepiece)
Siblings: Alice Hewitt, Frances Hewitt
Grandfathers: Samuel Hewitt, Alfred Makepiece
Grandmothers: Dolly Hewitt, Ivy Makepiece
Great Grandfathers: Jake Hewitt, Harold Pegg, Ernest Popplewell, Joe Harris
Great Grandmothers: Bets Pegg, Hetty Harris, Mary Popplewell
Spouse: Lizzie Harding (1948-1959), Concepta Riley (1961-1967)
Children: Lucille Hewitt (1949), Christopher Hewitt (1962)