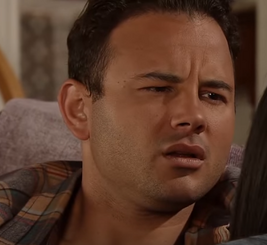 Jason Grimshaw was a character in Coronation Street who first appeared in Ep 4955 - 25 Dec 2000. He is the son of Eileen Grimshaw and Tony Stewart. After residing in Coronation Street for over 15 years he departed in June 2016 due to his dad being blamed for Callum Logan's murder and fearing reprisal from Callum's mates. However unknown to Jason, he was cleverly manipulated by the villain Pat Phelan who is dating his mother and portrayed himself as a genuine friend and ally to Jason. Jason was played by Ryan Thomas.
Jason Grimshaw was born on the 30th June 1983 in Weatherfield General Hospital to Tony Stewart and Eileen Grimshaw. Tony was an absent father for most of Jason's childhood and Jason and his half-brother Todd were raised by Eileen as a single parent, although she had multiple boyfriends. In 2000 he was living with his father but moved back to live with his mother at Christmas and wouldn't see Tony again until 2003. Jason's maternal grandfather Colin Grimshaw was the first cousin of Elsie Tanner, who lived in Coronation Street, Weatherfield for many decades. Elsie was well known in the area.
Jason found his van was on fire and feared Callum Logan's friends were behind it in revenge for his dad allegedly killing him. Jason was manipulated by Pat Phelan who convinced him to take a break and clear his head. After an emotional goodbye to his family and friends, Jason left the street to visit Violet Carson, as a smug and satisfied Phelan looked on. As Ryan Thomas has departed the show without any current intentions to return in the near future, something will cause Jason to decide to remain away for good.
Jason has been mentioned several times and has remained in contact with Eileen. Later in 2016, she phoned him to inform him the money he invested in Phelan's property development was stolen by Vinny Ashford. Phelan managed to make himself to look like a victim, and Jason told Eileen not for them to blame themselves.
In January 2018, he phoned Eileen to reveal he is in contact with Todd, who went on the run with his foster daughter Summer Spellman just before Christmas. He revealed Todd is laying low due to the heat he has attracted from going on the run.
Born: 30th June 1983
Parents: Tony Stewart and Eileen Grimshaw
Siblings: Todd Grimshaw (Half, same mother)
Grandfathers: Colin Grimshaw,
Grandmothers: Mrs. Grimshaw, Kitty Stewart
Great Grandfathers: Mr Grimshaw
Spouse: Sarah Louise Platt (2007-2010)
Children: None
Great, Great Uncles: Arthur Grimshaw
First Cousins Twice Removed: Elsie Tanner, Fay Butler, James Grimshaw, Several others
Community content is available under
CC-BY-SA
unless otherwise noted.