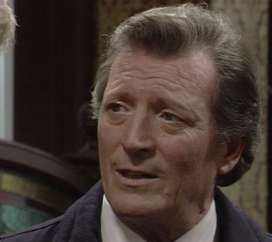 Johnny Briggs (1935-2021) was an English actor who played Mike Baldwin in Coronation Street from 1976 to 2006. He previously acted the role of a van driver called Frank (1974 Character) in Ep 1387 - 1 May 1974 in 1974.
Pre Coronation Street Career
[
edit
|
edit source
]
Born John Ernest Briggs on the 5th September 1935 in Lavender Sweep, Battersea, London to Ernest and Rose Briggs (Nee Good). John had a sister born in 1940 who died as a teenager. Johnny was evacuated from London during the war. Johnny graduated from the Italia Conti Academy and then had many roles in films in the 1950s and 1960s. Johnny married his first wife in 1961. He also had a role in Crossroads.
Johnny played a minor character in 1974 called Frank, who was a lorry driver. This was just for one episode. See Frank (1974 Character). Little did Johnny know that 2 years later after playing Frank, he would land a role in the show that would make him a household name and a key character for 30 years.
In the autumn of 1976, Johnny got his big break when he returned to Corrie, but not as Frank, but rather the role of stern but dishy factory boss Mike Baldwin, a suave Cockney who had moved up North. The shows makers wanted to introduce a Southerner to the show to boost ratings in the London areas. Mike Baldwin became one of the shows most popular characters. Johnny was a South Londoner like Mike Baldwin, although Johnny was from Battersea, and Mike from Bermondsey.
His character's most famous recurring story was his rivalry with original character Ken Barlow played by William Roache. Despite the two characters' hostilities over the years both Briggs and Roache got on well in real life.
The circumstances behind Briggs' departure from the show varies depending on what source one goes by. It was reported in 2005 at the time of his departure that he quit due to hectic filming schedules and wanted to retire, but a 2010 Coronation Street book stated he was axed to accommodate the Alzheimer's disease plot, which was pitched by a writer at a storyline meeting. Regardless Mike was given the storyline which went on for several months and concluded in an ironic twist in which he died in the arms of his arch-rival Ken Barlow, bringing an end to Mike Baldwin after 30 years. That same year Briggs won a lifetime achievement at the British Soap Awards.
Following his departure as the iconic Mike Baldwin, Briggs didn't take on any major television roles, although would make guest appearances. From 2007 to 2009 he appeared in Marple and Holby City. In 2008 he appeared in 10 episodes of Echo Beach. His proper final contribution to a television drama was an episode of Doctors in 2009.
Briggs invested in property.
Six years after departing from Coronation Street Briggs agreed to appear as Mike Baldwin's ghost in a 2012 Text Santa Special of Coronation Street. This special also saw former cast members returning as the ghosts of their deceased characters. This was Briggs' final acting role.
Johnny had a home in Somerset as well as in Florida, USA.
Johnny Briggs died on the 28th February 2021, aged 85, after a long illness.
Community content is available under
CC-BY-SA
unless otherwise noted.