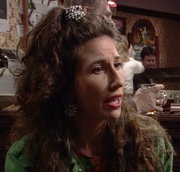 Judy Mallett (Nee Smedley) was a character in Coronation Street from Ep 3916 - 2 Oct 1995 to Ep 4688 - 26 Sep 1999. She was the wife of Gary Mallett. Judy died suddenly in September 1999 after a blood clot in her heart. Judy was played by Gaynor Faye.
Biography
[
]
Backstory
[
]
Born in 1971.
1995-1999
[
]
Judy and Gary Mallet moved into Number 9 Coronation Street in October 1995. Judy was feisty and fiery. Gary was a bit of a layabout. Judy longed to have children, and when teenager Zoe Tattersall was pregnant in 1997, Judy wanted to buy their baby. However Zoe gave birth and she bonded with the baby, and Judy was devastated. However she soon discovered that she was pregnant herself. Judy slept with her boss Paul Fisher for £2000. In June 1998, Judy and Gary had a row when she told him about Fisher, and he left her. Judy and Gary soon reconciled, especially as she was pregnant. Judy gave birth to twins Billy Mallett and Becky Mallett on Christmas day 1998.
In September 1999, Judy was involved in a minor car crash and she injured her leg. It caused a blood clot, and it went undetected, and it was to lead to fatal results for Judy when the clot went to hear heart. She collapsed in the back yard of No 9 and Emily Bishop found her later on. It transpired that she had been dead for about an hour by the time she was found. Gary was devastated.
Memorable info
[
]
Born: 4th August 1971
Died: 24th September 1999 (Aged 28)
Full Name: Judith Mallett (Nee Smedley)
Parents: Joyce Smedley and Unknown Man
Siblings:
Spouse: Gary Mallett (1993-1999)
Children: Billy Mallett (1998), Becky Mallett (1998)