Kevin John Webster is a character in Coronation Street who first appeared in Ep 2353 - 19 Oct 1983. He is the owner of Webster's Autos in Coronation Street. Kevin has had an eventful life since coming to live in Coronation Street. Kevin is played by actor Michael Le Vell.
Biography
[
]
Backstory
[
]
Kevin John Webster was born on the 3rd September 1965 the eldest child of Bill Webster and his wife Alison Webster (Nee Cartwright). A sister Debbie Webster, followed in 1967. Kevin grew up in Weatherfield. By 1983, he was an 18 year old mechanic.
1983-2013
[
]
In 1983, Kevin started drinking in The Rovers Return, Coronation Street. He became friends with Terry Duckworth and Curly Watts. Kevin got a job as a mechanic at Brian Tilsley's garage nearby. In 1984, Kevin moved into Number 11 Coronation Street with his dad Bill and sister Debbie. In January 1985, Bill, Debbie and Elaine left for Southampton. Kevin stayed behind in Weatherfield. He stayed at No 11 until the Clayton family moved in at the end of January 1985. Kevin lodged with Emily Bishop for a short while.
In 1985, recently widowed Hilda Ogden took on Kevin as a lodger. On occasions, Hilda became quite attached to her young lodger, and to a degree, she even saw him as a much younger version of her late husband Stan Ogden. Kevin dated Sally Seddon and they married in October 1986. Terry left Weatherfield in 1987 leaving the trio of pals to become a duo, Kevin and Curly, however they started to hang round more with Martin Platt. In December 1987, Hilda moved to the countryside and sold the house to Kevin. There were a few snags, but they bought it and renovated the house. Kevin's good friend Terry Duckworth returned to Weatherfield. However he was jealous of Kevin's marriage to Sally Webster and attempted to split them up, which caused Kevin to end their friendship.
In 1990, Kevin and Sally welcomed their first child Rosie Webster. In 1994, they had a daughter Sophie Webster. In July 1995, Kevin's dad Bill returned to Weatherfield, having lived alone in Germany for a time after having thumped the man who his wife Elaine left him for. In 1997 Kevin had an affair with Natalie Horrocks. After Sally found out the pair of them split up and divorced in 2000, which by this point Kevin and Natalie were no longer together.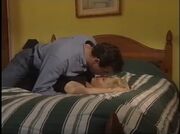 In 2000 he married Alison Wakefield and she became pregnant to his child. Tragically she gave birth to a baby boy Jake who passed away. Following this, Alison killed herself by throwing herself in front of a vehicle, following her briefly kidnapping newly born Bethany Platt.
Kevin and Sally reconciled and married again in 2002. In 2009, Kevin began an affair with best mate Tyrone Dobbs's wife Molly Dobbs, following the pair bonding over sharing mutual interests such as running. Although Molly was initially against Kevin's interest in her, she later indulged in the affair which lasted for the best part of 2009. On Christmas Day that year, the pair of them planned to leave their respected partners and run away together. But after Kevin discovered that Sally had breast cancer, he decided against it and broke things off with Molly before she could reveal the truth to Tyrone, much to Molly's devastation.
Kevin began to support Sally through her treatments for breast cancer until it was put into remission, and he wasn't interested in reconciling with Molly, which soured their relationship with each other. When Molly discovered she was pregnant (supposedly to Tyrone's baby), Kevin became suspicious and believed he may be the father. After Molly gave birth to a baby boy, whom her and Tyrone named Jack after Jack Duckworth, Kevin took a sample of the baby's saliva and had it tested at a lab. It was revealed that Jack was actually his son and he confronted Molly over it. The confrontation was (unknowingly to Kevin) overheard by Jack Duckworth, who confronted Molly on the matter shortly before his death.
Despite Molly making a promise to stick with Tyrone and keep up the lie that baby Jack is his, she decided to leave Tyrone and depart Weatherfield to stay with her dad. After breaking up from Tyrone and revealing that Jack isn't his, Molly met with Kevin at the corner shop to say goodbye to his son. After Kevin left the shop, an explosion at the Bistro caused a tram to derail from the viaduct, crashing into the Kabin and the Corner Shop, trapping Molly and Jack.
Although firefighters managed to retrieve Jack safely, Molly succumbed to her injuries, with a supportive Sally by her side. But unfortunately for Kevin, Molly revealed the truth behind her affair with Kevin and Jack's parentage to Sally, causing an angry Sally to split from Kevin again. On the day of Molly's funeral, Tyrone worked out about the affair, and punched Kevin, causing him to fall onto Molly's coffin.
As Tyrone couldn't bring himself to raise a child that wasn't his, he allowed Kevin to take custody. Although Kevin was no longer with Sally, he vowed to concentrate raising Jack.
The separation and revelation of his affair with Molly had a profound effect on Kevin's relationship with Sally and friendship with Tyrone, as they were in a feud throughout most of 2011. During a divorce proceeding Sally found out that Kevin had a big win on a scratch card and wanted half of it, and Tyrone refused to sell his share of the garage to Kevin. Kevin and Sally eventually divorced in 2012, but as time went on his relations with Sally and Tyrone began to sour less, and they began acting civil and friendly with each other despite the history with Molly.
At the start of 2013, Kevin's relationship with Tyrone began to be patched when he found out that Tyrone had been subjected to domestic abuse by his girlfriend Kirsty Soames for the pst year. At around this time Kirsty accused Tyrone of being the abuser, after she found out about his affair with Fiz Stape. Although other street residents (including Sally) sided with Kirsty over the matter, Kevin believed Tyrone was telling the truth and supported him. When Kevin babysat Kirsty and Tyrone's daughter Ruby, he allowed Tyrone to take Ruby in an attempt to flee the country. This had an unfortunate outcome as Tyrone ended up being arrested for kidnapping. Although Kevin was a suspect in helping, he got off due to faking that he was sleeping during the "abduction".
Kevin ended up quickly departing Weatherfield along with Jack in order to take care of his dad in Germany. Although this meant he would miss Tyrone's trial, Tyrone would be cleared of all charges and Kirsty was instead arrested after she confessed to the truth.
2014-
[
]
After being away a year looking after Bill, Kevin returned with Jack in tow in March 2014. When he believed someone had broken into Sally's house, he entered the property and attacked the individual, only to find out it was Sally's new boyfriend Tim Metcalfe.
Despite just being back in Weatherfield, Kevin ended up returning to Germany a few weeks later after Bill suffered a fall. He returned permanently five months later in September 2014, and normal business resumed. Despite his bad start with Tim, the pair ended up becoming friends.
In 2015 Kevin began to use internet dating. He ended up reuniting with former neighbour Jenny Bradley, and the pair started dating. The relationship wasn't well received back on the street, especially from Jenny's former foster mother Rita Tanner who didn't leave on good terms with Jenny the last time they went. Unknown to Kevin, Jenny developed an obsession with Jack, due to the death of her own young son a few years prior. This caused Jenny to suffer a breakdown and kidnap Jack, and take him to a woman's refuge. Kevin tracked her down, and along with Rita talked Jenny out of jumping from a balcony. Kevin safely retrieved Jack, and Jenny was taken away to get psychiatric treatment.
Memorable info
[
]
Appearances: 19–26 October 1983, 6 February 1984–8 February 2013, 21 March–18 April 2014, 24 September 2014–present
Born: 3rd September 1965, Weatherfield, Salford, Lancashire
Full Name: Kevin John Webster
Parents: Bill Webster and Alison Webster
Siblings Debbie Webster
Grandfathers: Jim Webster
Grandmothers: Helen Webster
Spouse Sally Seddon (1986-2000, 2002-2012), Alison Wakefield (2000)
Children: Rosie Webster (1990), Sophie Webster (1994), Jake Webster (2000; deceased), Jack Webster (2010)
Uncles/Aunts: Ted, Alice (One of those was his mothers sibling, and his/her spouse, as Bill was an only child)
Trivia
[
]
In 1983, producer Bill Podmore wanted to introduce some younger characters to the show so he bought in 3 young males, Kevin Webster, and Terry Duckworth and Curly Watts, plus another young female, Debbie Webster, who was the sister of Kevin. Sharon Gaskell had been introduced in 1982 so the 3 lads could vie with each other for her attentions. Kevin initially appeared for just 3 episodes in October 1983, before making a full time return in February 1984, alongside his dad and younger sister. Also, Kevin, Terry and Curly sat in The Snug chatting and bantering, just like Ena Sharples, Minnie Caldwell and Martha Longhurst did 20 years earlier. Curly was the Minnie, Terry the Ena and Kevin the Martha.
Kevin's mum's maiden surname was Cartwright. In the late 1800s Victoria Street was called Cartwright Street so she may have had family from there, if so, she is possible related to Fred Elliott as his mother's maiden surname was Cartwright. Fred's grandfather was Bernard Cartwright. However Fred and Kevin knew each other for years and they would have said something if they were related, unless they were unaware they are related.
When Kevin lodged with Hilda Ogden, he occasionally would fall asleep in her late husband Stan Ogden's chair with the paper strewn across his lap. Hilda said this reminded her of Stan.
Appendices
[
]
List of addresses
[
]
Employment history
[
]
| Role | Institution | Duration |
| --- | --- | --- |
Gallery
[
]