Jurassic World: Dominion Dominates Fandom Wikis - The Loop
Play Sound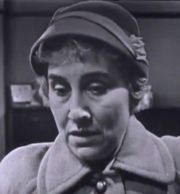 In the shows 61-year history, the death toll for the cobbled backstreet of Coronation Street has been quite high, especially since around 2002 when it became a haven for serial killers such as Richard Hillman. Here is a list of deaths in the show since 1960 with the cause of death and age at death. This list includes unseen characters.
This also includes a separate list of characters who had moved away from Coronation Street but were later said to have died, but the death date is unknown, for example Frank Barlow and Minnie Caldwell. Frank was said to have died by April 1975 and Minnie was said to have died by 2008.
See also https://en.wikipedia.org/wiki/List_of_births,_marriages,_and_deaths_in_Coronation_Street#Deaths
List of deaths in Coronation Street
[
]
Deaths that took place onscreen/offscreen that happened in the episode of death or mentioned in the episode. Those marked with an Asterix means they were murdered.
Characters who died after appearing but the exact date is unknown
[
]
For example, in 2008 Jed Stone said he went to visit Minnie Caldwell's grave but this took place offscreen and her death date was never revealed but sometime between 1976 and 2008. Frank Barlow was said to have died by April 1975, but the 60 Years of Coronation Street book implies he is still alive aged, wait for it, 107. That is still possible as people can live to that age and beyond. Jeanne Calment anyone?
| Character Name | Timeframe of death | Cause of death | Age at death |
| --- | --- | --- | --- |
| Frank Barlow | Inbetween 1971 and 1975 | Unknown | 48-52 |
| Minnie Caldwell | Inbetween 1980 and 2008 | Unknown | 80-108 |
| Ena Sharples | Inbetween 1980 and 1989 | Unknown | 80-90 |
| Annie Walker | Inbetween 1984 and 1995 | Unknown | 80-90 |
| Fred Gee | Inbetween Dec 1998 and Jan 1999 | Heart attack | 64 |
| Elsie Tanner | Circa 2004/2005 | Car Crash | 81-82 |
| Bill Gregory | Circa 2004/2005 | Car Crash | About 80-85 |
| Ida Clough | Inbetween 1998 and 2008 | Unknown | 60-70 |