Jurassic World: Dominion Dominates Fandom Wikis - The Loop
Play Sound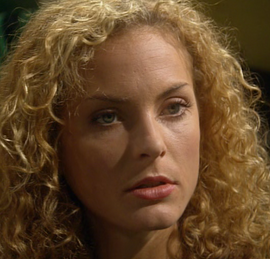 Maxine Peacock (Nee Heavey) was a character in Coronation Street from 1995 to 2003. Maxine was first mentioned in Ep 3766 - 19 Oct 1994 before debuting in Ep 3851 - 3 May 1995. She was the best friend of Fiona Middleton as they knew each other from college. Maxine was killed by Richard Hillman in Ep 5418/5419 - 13 Jan 2003. After all, she should have stayed at the party. Maxine was played by Tracy Shaw.
Biography
[
]
Backstory
[
]
Maxine Heavey was born on the 10th November 1975 to Derek Heavey and Doreen Heavey. At college in the early 1990s, Maxine met Fiona Middleton, who was a fellow college student and they then went their separate ways but remained in touch. In October 1994, Fiona mentioned Maxine to her friends in the Rovers.
1995-2003
[
]
Maxine arrived in May 1995 in Coronation Street when she covered for her friend Fiona at Denise's Salon, Coronation Street. Maxine was then taken on permanently at the salon, still owned by Denise Osbourne. She had a few flings with the men of the street such as Steve McDonald, Tony Horrocks and Curly Watts, yes Curly, but she was drunk at the time. Maxine was best friends with Fiona.
In 1998, Maxine had a relationship with Greg Kelly but Greg made a pass at Fiona behind Maxine's back. Fiona was dating Steve McDonald. Fiona told Maxine but she accused Fiona of trying to cause trouble. This started the end of their friendship as they argued more. Maxine then had a fling with Steve behind Fiona's back. Fiona could not forgive her former best friend for this. Their friendship was over once and for all and Fiona left the street that September to live with her parents, and Maxine and Fiona parted ways for good. In 1999, Maxine dated and then married Ashley Peacock.
Yet again, the untrustworthy Maxine cheated on Ashley and had a fling with Matt Ramsden.
Legacy
[
]
After she was murdered by Richard Hillman, a bench was erected outside Audrey's Salon which had a plate dedicated to Maxine Peacock. Should be twinned with Arthur's Bench in EastEnders.
In June 2017, over 14 years after Maxine's death, Craig Tinker was talking to Bethany Platt on Maxine's bench and asked who this Maxine Peacock was. Bethany said she heard of her. Bethany was only 2 when Maxine died so will not remember her vividly. Bethany's step grandfather Richard Hillman killed Maxine.
Memorable info
[
]
Born: 10th November 1975
Died: 13th January 2003 (Aged 27)
Full Name: Maxine Peacock (Nee Heavey)
Parents: Derek Heavey and Doreen Heavey (Nee Outhwaite)
Siblings:
Spouse: Ashley Peacock (1999-2003)
Children: Joshua Peacock (2002)