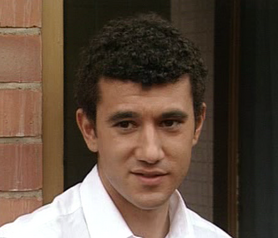 Samir Rachid was a character in Coronation Street from Ep 3742 - 24 Aug 1994 to Ep 3864 - 2 Jun 1995. He was the second husband of Deirdre Barlow. Samir was Moroccan. Samir was beaten up in 1995 and died in hospital but donated a kidney to Tracy Barlow, his step daughter. Samir was played by Al Nedjari.
Biography
Backstory
Samir Rachid was born on the 14th January 1973 in Morocco to Mr Rachid and Mrs Rachid, one of at least 2 children. He had a younger sister. Samir's family were respectable people as Samir would later comment on.
1994-1995
Samir was a waiter. He dated Deirdre Barlow after meeting her when she was on holiday. Deirdre was 18 years older than him. They got engaged. Samir planned to move to the UK from Morocco. She invited him to England for a few weeks. Samir did have some trouble regarding his visa. Samir and Deirdre married in November 1994.
In December 1994, Samir's mother wrote him a letter giving her blessing about his wedding. Samir wanted her to move to Morocco with him. Deirdre agreed, and at the end of December, they left for Morocco, a dejected Ken watching as the taxi drove off down Viaduct Street.
In March 1995, Deirdre's daughter Tracy Barlow took some ecstasy and was rushed to hospital. She was put into a drug induced coma so Deirdre returned to England. Samir returned a couple of weeks later in early April 1995. Tracy needed a kidney, and Samir offered to be a donor. Samir was brutally attacked in June 1995 and rushed to hospital. The doctors said that he will not recover, but he had already agreed to donate his kidney to Tracy. Samir died soon after.
Legacy
Deirdre retained Samir's surname for several years after his death, until she remarried Ken in April 2005, 10 years after Samir died.
In January 2021, over 25 years after Samir's death, he was mentioned by Ken and Peter when Peter needed a liver transplant.
Memorable info
Born: 14th January 1973, Morocco
Died: 2nd June 1995 (Aged 22)
Full Name: Samir Rachid
Parents: Mr Rachid and Mrs Rachid
Siblings: A sister
Spouse: Deirdre Barlow (1994-1995)
Children: None
Stepchildren: Tracy Barlow
Trivia