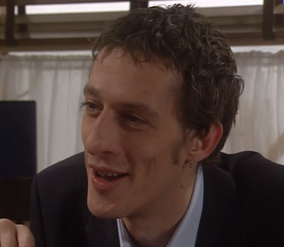 Geoffrey "Spider" Nugent was a character in Coronation Street from Ep 4317 - 15 Dec 1997 to 2000 followed by recurring appearances in 2002 and 2003. He is the nephew of Emily Bishop. Spider was played by Martin Hancock
.
Geoffrey Nugent was born on the 4th January 1972 in London to Yorkshire born Edgar Nugent and his wife. Edgar's relatives all lived in Harrogate or Weatherfield, Salford.
Spider Nugent arrived in Weatherfield in 1997 to see his "Aunty Em". He was an eco warrior. Spider rubbed local frozen food chain boss Eric Firman up the wrong way. He soon applied for a position of local councillor but vied with Fred Elliott and Alec Gilroy. They even bribed him but Spider relented. Spider developed a rivalry with Fred and Alec. Spider once insulted Fred by asking if those pigs and cows had a right to vote whether they ended up in his butchers shop window. Spider lost out to Audrey roberts as councillor anyway. Mike Baldwin referred to Spider as an eco warrior. Spider started dating Toyah Battersby. In 1999, when Emily was away, Spider and Toyah almost burnt her house down when they left a candle near a curtain. Luckily the fire only damaged the window area and surrounding wallpaper.
At some point Spider and Toyah separated and she moved to Liverpool. Spider later moved to Peru and in December 2015 Emily decided to try and make contact with him again. On New Year's Day 2016 Emily departed for Peru to see Spider.
Spider and Toyah's separation after their departure in 2003 isn't clear, although it happened some point prior to 2011 as in that year she married a man named Toby Chapman.
Appearances: 15 December 1997-1 January 2000, 23 April-28 July 2000, 11-18 November 2001, 27 January-5 February 2003
Born: 4th January 1972, London, England
Full Name: Geoffrey Nugent
Nicknames: Spider
Parents: Edgar Nugent and Mrs. Nugent
Siblings:
Grandfathers: James Nugent
Grandmothers: Agnes Nugent
Spouse:
Children:
Community content is available under
CC-BY-SA
unless otherwise noted.